Come fish with me:
U.S.C.G. Licensed Captain George Murphy on the Hudson River and you will discover why I think Saugerties is the best place to be during the annual striped bass run!
Check out the latest video of large Striped Bass caught in the Hudson River with captain George! Setting up an appointment with Hudson River Charter is easy, call today and get ready to catch some fish!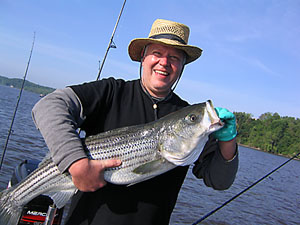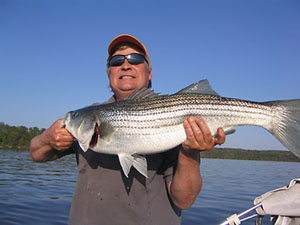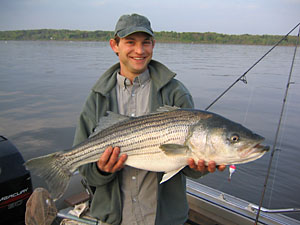 Every year all the biggest fish are caught between Kingston and Catskill. And if you didn't know it Saugerties is right in the middle with the Esopus creek dumping millions of gallons of oxygen rich mountain runoff into the river, which the herring gravitate to. We can usually bank on a large number of stripers to be in our area for most of the season.
With close to twenty years of catching lots of big bass here I've got a few tricks up my sleeve to keep the action going. By the second week of April I am watching the Esopus creek for signs of herring arriving on a daily basis. When they show up, ITS TIME! On an average year I'm into fish by the 20th of the month Generally it just gets better as May arrives and is steady through the month. So book a striper trip early to secure the best times. I don't think you'll be disappointed fishin' aboard my boat.